Truth? Bharat Biotech Vice President taking COVID vaccine on himself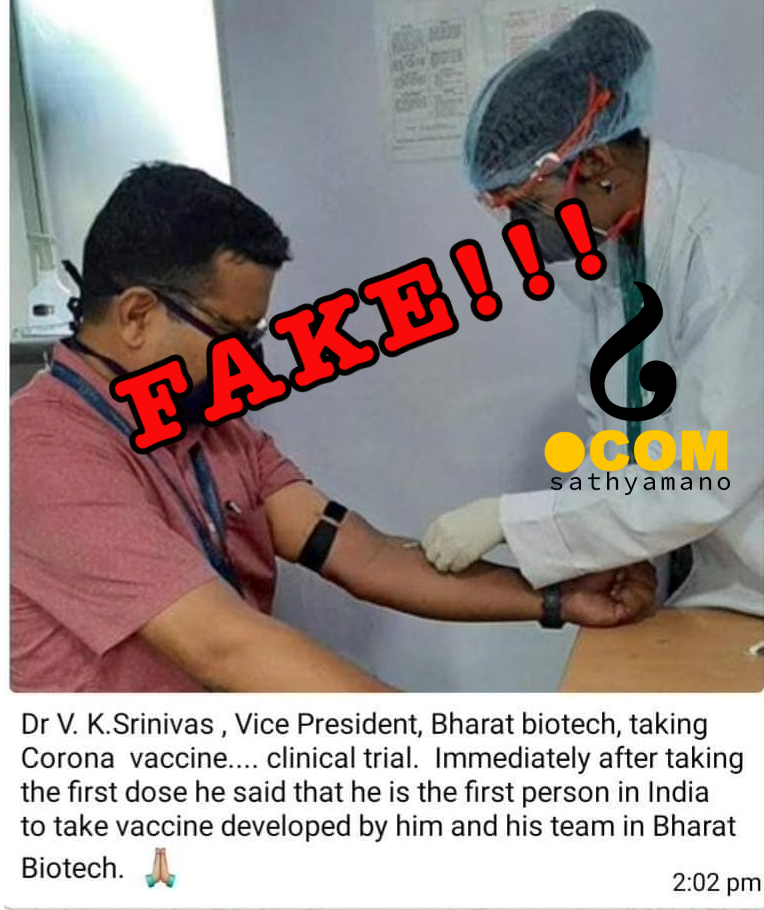 It is a wide spread news that India's first vaccine against COVID virus is about to begin human trials this month. This is India's first vaccine against the virus and one among many in the world undergoing tests. But the news that has reached more people is that of the Vice President of Bharat Biotech Making the first human trial on himself.
The above picture has been shared across platforms claiming it to be the first human trial of COVAXIN and the person taking the medicine is claimed to be the Vice President of Bharat Biotech International Limited(BBIL) , Dr. V K Srinivas. Some of these messages praises his and the group's confidence in the medicine to take the first dose on himself.
As you suspected, the post and the message is false.
The company itself has officially refuted the message and has clarified that the picture shown is "just a routine blood draw for testing all production staff"
Below is the full tweet from their official page.
India's drug control authorities have allowed Bharat Biotech to hold Phase 1 and 2 of clinical human trials.
The two trials are designed to test whether the vaccine is safe, rather than whether it is effective.
The vaccine is called Covaxin and has been locally developed in collaboration with India's National Institute of Virology and Indian Council of Medical Research, according to Dr Krishna Ella, chairman of Bharat Biotech.